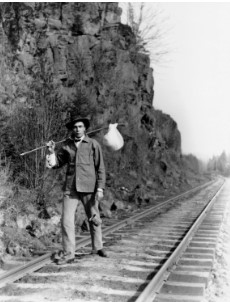 Running away or running to?
Have you ever wanted to run away?
Did you run away? Why? Where did you go?
Or:
Did you have an ancestor who "rode the rails?"
If you were to be a hobo, carrying all your belongings in a kerchief tied to a stick, what would you have in the sack?
Or maybe you would have a knapsack.
Research shows:
A female hobo is a boette.
A hobo is a migrant worker in the United States. 
Hoboes, tramps and bums are generally regarded as related, but distinct:
A hobo travels and is willing to work; a tramp travels, but avoids work if possible; and a bum neither travels nor works.
Be careful when you call a vagrant or homeless person a hobo — although this is exactly what the word means, it is a somewhat offensive term.
Why yes, perhaps I went down the rabbit hole with researching!
Thanks to Rebecca Evans for this "hobo with a kerchief on a stick" prompt idea. When she mentioned that in a conversation, I immediately saw the image of someone carrying a sack on a stick and thought "Great prompt!"